Storing your ironing board may seem difficult especially in a small house. But, if you have a laundry room, then placing the ironing board in there is a no-brainer.
However, even in the laundry room, you still need to be able to store your ironing board properly or it will not be long before it looks like a mini hurricane happened in your laundry room.
We discovered that one major drawback of having an ironing board, especially the floor model, is that most people find storing it quite confusing.
In this article, we would be looking at how you can store your ironing board including suitable rooms and positions where your ironing board can be placed.
We will also show you how to make a DIY ironing board storage easily.
Let's get into it.
Storing Your Ironing Board
Firstly, it helps to know that the ways you can store your ironing board vary with the size of your home.
If you have a utility room, then that is great. You can store your ironing boards along with tools and furniture that are not in use in there. Alternatively, you can use the laundry room.
Moreover, if your closet or wardrobe is quite deep then it may be a suitable place for you to fit in your ironing board.
However, wardrobes and closets are better at accommodating portable ironing boards or ironing boards that fold up into a compact shape.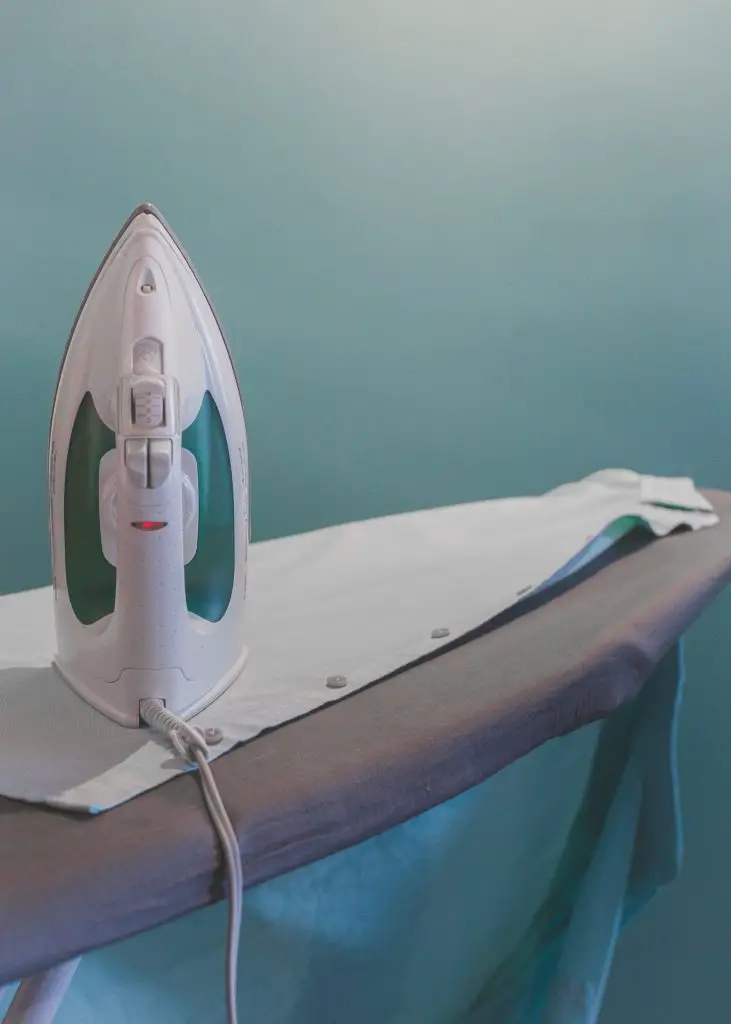 This is not to say that your regular floor model ironing board won't fit in. We are only saying that it depends on the size of your closet.
Now, just in case you do not have a closet or it is not big enough to store an ironing board, you can opt to have the board stored under your bed.
One downer though, it may get stressful to bend or crouch to remove your ironing board from under the bed every time you need to use it.
So, if you are very short on space and you are convinced that the space under your bed will not make it easy for you to store and retrieve your board, then it is advisable to get a table-top ironing board.
Table-top ironing boards are usually portable and are more likely to fit perfectly under your bed.
You can also make your own ironing board storage and have it hung on the wall neatly.
Video: DIY Ironing Board Storage
Check out this video for an actual demonstration of how to make an ironing board storage.
What are the ways you can store an ironing board?
Ways to store your ironing board include hanging, using over the door holders, and using wall hooks.
Let's take a closer look at them.
Hanging the Ironing Board
How can you store an ironing board by hanging?
To store your ironing board by hanging, you need 4 screws, 2 coat hanger hooks, and a screwdriver.

Drill holes on your wall and attach the hooks using screws and a screwdriver. Hang your ironing board with the pointed end facing downwards.
A good number of people who store their ironing boards away when it is not in use often hang the board on a door using hangers.
This is an ironing board storage option you may want to consider.
So, typically the hanger comes in the form of a metal bracket to make a firm hold on the door and also withstand the weight of the board.
Most time, the bracket also comes with a basket to store your iron and other ironing accessories when they are not in use.
What better way to keep your laundry room organized and clean.
Typically, in addition to being able to hold your iron and accessories, some brackets also offer some sort of cable management for the cord of your iron so that it is not bunched up or hanging down the wall or door.
A good example of this is this mDesign holder below. This product features a storage basket that can conveniently hold your iron and ironing products like linen spray and spray starch.
When installing the brackets into the wall, you want to be careful with the fixings. If you use the wrong type of fixing, there's a high probability that the brackets won't stay after screwing them to the wall.
So, the first thing you want to do is to check if the wall can support the weight of your ironing board. Some walls aren't so strong and they'll keep crumbling as you try to fix a screw in.
If the wall is solid, then you can use a drilling machine to bore holes into the wall. Next, insert wall plugs; then you can easily install the bracket with screws.
If your wall is plastered or dry, it is advisable to use butterfly screws to ensure that they fit into the wall properly.
If you would rather not have anything hanging on your wall then you can decide to install these brackets at the back of the door.
But, just as we mentioned about installing a bracket on the wall, ensure that the door is strong enough before you do this. It should be able to support the weight of your ironing board.
Also, the screws you use to attach the bracket to the door should not be too long. Else, they will come out through the other side of the door.
Using the Door Hanger
How can you store your ironing board by hanging it over the door?
To store your ironing board using the door holder, fix a hook or ironing board hanger at the back of the door. Proceed to hang both your iron and the board on it. You can only use it with doors that you know will always stay open. This is a great option for people who do not want to go through the stress of having to drill their walls and install brackets.
It is not likely that placing a holder over your door will allow you to close your door because of the little to no space between most doors door and the lintel. But if you are lucky to have enough space on top of the door, then it's a win-win.
Check out this affordable and highly-rated over-the-door ironing caddy from Whitmor. It also has an iron holder to hold your iron in place.
The door hook is also quite thin so that you can get a chance to also close your door whenever you want even when the hanger is on it.
Using Wall Hooks
Wall hooks are very cheap and you'll find them in almost any store. Attaching hooks to your wall can easily do the job.
But, you need to be sure that you're placing the hooks in the right position.
Incorrect placement may prevent the board from hanging properly.
Check out this Brabantia iron wall mount with ironing board hook.
For more ironing tips, check these articles:
Conclusion
How you store your ironing board depends on the amount of space you have in your home for storage.
The size of the ironing board is also a major factor when it comes to ironing board storage. For instance, small table-top ironing boards will sit well under the bed while you will most likely have to hang your large ironing board.
If you have big empty closets, you can also store your ironing boards in them.
So, before purchasing your ironing board, check for the available space for storage and determine what ironing board storage option will be perfect for you.
How to Store An Ironing Board in 3 Easy Ways — Related FAQs
How Do You Fix an Ironing Board That Won't Stay Up?
A lever is fixed to an ironing board using a metal plate which allows the ironing board to stay up. If this metal plate is damaged, the ironing board can no longer stay up.
To repair the ironing board metal plate, do the following:
1.    Place your ironing board on a flat surface, with the legs facing upwards.
2.    Remove the damaged metal plate.
3.    Cut out a metal sheet the same size as the damaged metal plate.
4.    Create four holes at the edges of the metal sheet.
5.    Beat the metal sheet into the shape.
6.    Drive 4 screws through the holes on the metal sheet and hold it tightly onto the ironing board frame.
How Do You Fix A Wobbly Ironing Board?
To fix a wobbly ironing board, you can put a heavy object on the legs of the board. This method will work if the stand is uneven. This way, the weight can hold the ironing board in place while you iron.
If your ironing board stand is even, it means that your ironing board is wobbly due to an uneven floor. To fix this, you can move your board to another part of the house where the floor is even.
Alternatively, you can place some old towels or a rug on the floor before placing your ironing board on it.
How Do You Make Ironing Board Legs?
To make ironing board legs, you will need either wood or metal rods, some screws, and a screwdriver. You can buy decorated ironing board legs from a hardware store also.
Cut the metal or wood to your desired length and width. Create holes for the legs on the ironing board. Attach the legs to the ironing board using the screws and screwdriver.
When choosing the wood or metal for the project, select lightweight metal or wood. This will make it easier to lift and move the ironing board around.
How Do You Open the Better Homes And Gardens Ironing Board?
To open the Better Homes and Gardens ironing board, do the following:
1.    Place the folded ironing board on the floor.
2.    Check under the ironing board for the lever press.
3.    Turn the ironing board over so that the legs are facing the floor, then press the lever.
4.    When the ironing board opens and reaches the desired size, release the lever.
5.    Press the ironing board down so that the legs lock into place. Doing this will give you the guarantee that the ironing board will not collapse while it is in use.
What is the Red Ball on a Brabantia Ironing Board For? 
The spherical object on a Brabantia® ironing board is a safety lock for the ironing board lever. When the ball is placed over the lever, it locks the lever and prevents the ironing board from being closed by mistake. Instead of the legs of the ironing board to collapse when a child touches it, it topples over.
This red ball is present in all Brabantia® ironing boards and you can find out how to use this safety mechanism by reading the instruction manual. 

How Much Weight Can an Ironing Board Hold?
The weight an ironing board can bear depends on its size. Small ironing boards cannot bear as much weight as the large ones.
Ironing boards are designed with hollow metal legs to enable them to bear heavyweights. It is expected that some clothes can be kept on the board when ironing. It is also expected that heavy irons will be placed on the board.
If you iron a large number of clothes at a time using heavyweight steam irons, it is best to buy a large ironing board. This is because placing a lot of weight on smaller ironing boards will damage the legs in the long run.
How Do You Use an Iron Stand?
To use an iron stand, you can turn the board around so that the iron stand is near to your dominant hand. Place the iron on the stand in a manner that the electric cord is not bent in an unusual way.
If the iron stand is not wide to allow you to place the iron soleplate flat on it, place the rear of the iron on the iron holder. Placing the narrow end of the iron instead will cause the water in your steam iron to seep out.
The iron stand is designed to hold an iron and it has holes that allow heat or steam to pass through.