This article is a full guide on how and where to buy a good and sturdy ironing board.
Buying a good ironing board will not necessarily make the chore of ironing less boring and time-consuming, but it is certainly guaranteed to make the job much easier for you.
A good number of people have a love-hate relationship with ironing. We all love to look good all the time with smooth, crisp, and nicely ironed clothes. Most times, we often find it difficult to engage in the snooze fest of the ironing that is necessary to get these results. Little wonder there is a lot of clothes out there bearing labels that boast of being "wrinkle-free", "wash and wear" and the likes.
Now, unless you are a minimalist who owns just a capsule wardrobe with very few clothes, it is almost impossible to have only wrinkle-free clothes that do not require ironing in your clothing collection. No matter what, there will always be those pieces of garments that would require you to heat up an iron once in a while and do some ironing.
More so, apart from the clothes we wear, we will always have other things to iron, such as table covers, towels, bedsheets, curtains, and other household items.
So, if you think about it, there is really no escaping the task of ironing, except, of course, you choose to outsource the job.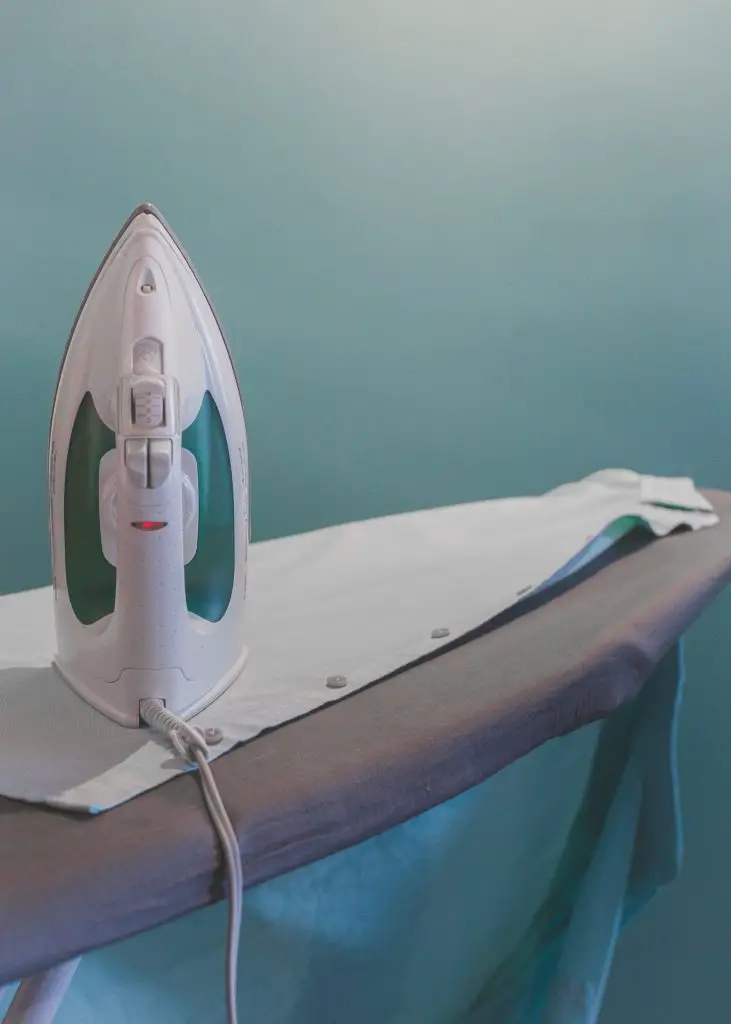 On the other hand, you may love ironing and derive satisfaction from seeing wrinkles melt away before your eyes. You may also just be indifferent and simply want to get the creases out of your clothes however it takes.
Whatever category you fall into, you need to have the right tools for the job, so as to make the process somewhat easier.
This includes a high level of grit and willingness to do this necessary but unpleasant task (for those who hate ironing), a high-quality iron, other ironing accessories like hangers and racks, and of course, an efficient ironing board, which is the focus of this article.
A high-quality ironing board provides a sturdy, flat, and smooth ironing surface to lay your clothes on while ironing.
You may be used to ironing on a table or counter covered with a towel or blanket but an ironing board makes the process of pressing your clothes more effective and convenient.
Ironing boards also have a rounded point at one end, known as the nose, which makes it easier to iron sleeves, hems, trouser legs, and the likes.
Now, a lot of ironing boards of varying sizes and designs exist out there, which is both a blessing and a bane. A blessing because you have a lot of options to choose from, and a bane because it is easy to get confused and/or purchase an ironing board that would lead to regrets later on.
So, it is very important to identify and invest in an ironing board of good quality and one that fits your needs and makes the ironing easier.
Types Of Ironing Boards
What are the types of ironing boards?
The types of ironing boards are:

1. Free-standing ironing board.

2. Tabletop ironing board.

3. Built-In ironing board.

4. Hanging ironing board.
Free-Standing Ironing Board
What is a freestanding ironing board?
The freestanding ironing board, also known as a stand-alone ironing board, is a full-sized board that can stand anywhere in the room. It comes with retractable legs that enable them to be set up anywhere. The legs could be straight, branched, or looped. The legs may also be fixed or adjustable, such that the height can be increased or decreased to fit the preference of the person using it.
A board of this sort may also come with legs that can be folded up to make it much easier to move around and/or tucked away in storage.
These board types are known as foldable ironing boards and are very space-efficient.
Some of these ironing boards are heavy, so you would have to set them up in a dedicated space without moving around while others are more lightweight and portable and thus, easy to move.
Tabletop Ironing Board
What is a tabletop ironing board?
A tabletop ironing board is a compact, sturdy, and portable piece that can be placed on a table or even kitchen counter. It consists of the ironing surface and a supporting base with which it can be placed on any surface, making it easy to use.
Having a tabletop board is especially useful for travelers, as they can carry the board on their trips and use it anywhere.
People living in dorm rooms or very small spaces would find this type of ironing board useful, too.
Just bring it out, set it up on a flat surface and you're all set!
Mind you, a tabletop ironing board is also easy to store, as the base of the board can be folded flat to make for easy and clean storage without consuming much space.
Built-In Ironing Board
What is a built-in ironing board?
A built-in ironing board is an ironing board attached or built into another component in the room. This could be a wall, shelf, drawer, or wardrobe, as long as there is enough space as well as a strong support to attach it to and use it.
Ironing boards that fall into this category do not come with legs but have hooks with which they can be attached to a wall, for instance. Once you are done ironing, you simply fold it back flat against the wall, into the closet, or any other surface it is attached to.
You could have a professional installer set this board up for you or do the job yourself, using the kits available.
Hanging Ironing Board
What is a hanging ironing board?
A hanging ironing board is a bit similar to the built-in board, but with a slight difference in how it is set up. Like a built-in board, it does not come with legs to stand on, but unlike built-in board, a hanging board is not attached permanently to a surface but is hung with the aid of hooks.

To set this ironing board up, it is fixed to the door or wall at one end and the ironing surface can be dropped down and used when needed.
Common areas to hang the board are behind the door, over the door, on a shelf, or on a special panel.
Most hanging ironing boards are foldable, so you can tuck them away out of sight by closing the door after use. You can also choose to leave your board hanging down all the time.
For any of these types of ironing boards, you need to look at which one fits your lifestyle, ironing habits, needs, and home space.
Key Features To Look Out For In An Ironing Board
What are the features to look out for in an ironing board?
The features to look out for in an ironing board are:

1. The design and type

2. The frame.

3. Size.

4. Height.

5. Sturdiness.

6. Ironing board cover and padding.

7. Extra features.
When seeking the best ironing board, it is easy to get overwhelmed with the myriads of ironing board options available out there that are calling for your attention.
This is why we have laid out the important features to look out for in an ironing board before you make a choice, irrespective of the brand, cost, or even rave reviews that flood the internet.
Design and Type
The hanging door or tabletop ironing board will work best for you if you move around a lot. You can simply lay your board on a surface or find firm support to hang it on wherever you are and iron away. They are also easy to fold and store.
Frame
Available ironing board frame materials vary, from metal (most common) to wooden.
It is advised that you go for a board with a light but strong frame, that allows for much ventilation when ironing and allows you to move around freely.
The board should also be sturdy and easy to use. So, typically, a metal frame with mesh surface is commonly used these days as it allows steam to pass through.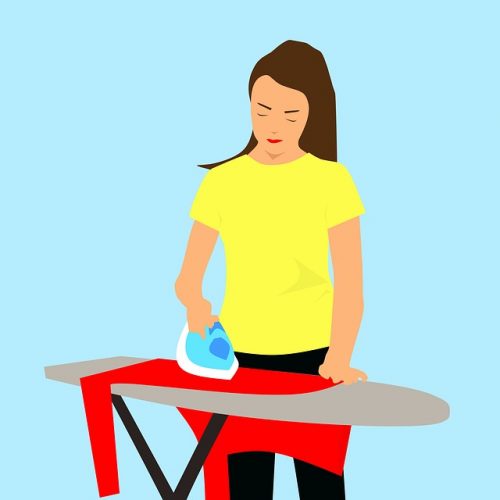 Size
If you have ample space, we advise that you go for the full-size ironing board, as it will give you more options for any item you need to iron.
A full-size board is about 4 feet in length and between 12 to 18 inches in width.
If your ironing board is too small, then you won't be able to iron much larger clothes like bedsheets and curtains conveniently.
If you have a small space, or you only do quick touch-ups once in a while, then you can opt for a much smaller board or better still, a tabletop ironing board.
Height
Just as we explained above, there are different types of ironing boards out there. So, you need to carefully consider the type of ironing board that will work best for your lifestyle.
Ironing can be a stressful process, and it would be worse to have it stress you further by putting a strain on your back. This is why you must put ergonomics into consideration when making your purchase.
The ideal height for an ironing board should be at your hip level when standing.
You do not need to bend over or reach high while you are pressing your clothes on the board. So, opt for one that works for your body and won't lead to poor posture and body aches later.
Now, just in case you are not living alone and other people would need to use the ironing board at one point or the other, it is advisable to go for one that has an adjustable height feature, such that other people who want to use it can adjust it for their convenience.
More so, there are times when you may decide that you want to iron while seated, which means that you would want to be able to adjust however you want (ideally, just above your seated hip level).
If you often rotate between standing and sitting, or other people would be using the board, then you should not purchase a built-in board model, because boards of the sort are usually not adjustable.
Sturdiness
A wobbly and rickety ironing board will create a nightmare each time you use it. This is why you need to look out for one that is sturdy, stable, and firm.
No matter the type of ironing board you want, it must be able to support weight, pressure, and ironing motions imposed on it during ironing without toppling over, shaking, or shifting out of balance. Any of these can cause an accident and will generally make ironing very inconvenient for you.
Thankfully, you don't have to sacrifice lightweight preference to have an acceptable level of sturdiness on your board, as there are some lightweight ironing boards out there that still manage to be firm and sturdy.
Ironing Board Cover and Padding
An ironing board also needs a cover. Most ironing boards come with covers and padding while for some, you would have to purchase yourself. You can also choose to buy an extra cover for some extra benefits.
Look out for a cover material that is scorch resistant, has a reflective surface ( which returns heat back to the clothes), and non-stick ( which prevents your clothes from sticking to the ironing board).
The cover should also enable adequate ventilation so that the clothes can breathe, and also be able to absorb and wick away moisture, especially when you are using a steam iron.
Different materials are used for ironing board cover, like non-bleached organic 100% cotton, Teflon-coated, or fabric woven with copper (metallic cover).
What's more? Your cover must be non-slip and should fit properly over the ironing board.
As for the padding, this provides a separation between your cloth and the frame of your board, which is usually metal mesh on the surface.
Padding, which is usually about 4 to 8 millimeters in thickness, prevents the mesh from impacting marks on your clothes.
This could be a foam pad, even though this type usually loses shape after a while and can absorb and retain moisture underneath the ironing surface, making it wet. This is why we recommend that you go for an ironing board with felt lining, which lasts longer, wicks away moisture, and doesn't contain chemicals.
You can also upgrade your ironing cover yourself by adding an extra layer to the one that comes with it.
However, whatever you do, please avoid any ironing board cover made with white chrysolite — a form of asbestos — as it poses a serious danger to your health.
Extra Features
A lack of these extra ironing board features is not a deal-breaker, but the features are designed to enhance your ironing process.
These features include an iron rest to place your iron on to prevent it from falling off the board if you need to take a break or adjust the cloth you're ironing. This should be sturdy enough to support a heavy iron and hold it in place properly.
You may also like to have an iron wire hook to keep the cord of your iron out of the way so that it doesn't slow you down and you do not accidentally damage it by placing the hot iron on it.
Your ironing board could also have a sleeve attachment, which is a smaller board, about 2 feet in length with 6 to 8 inches width. It is usually attached to the board and is designed for ironing sleeves and smaller pieces of clothes.
Other extra features you may want to look out for include a hanging rack to hang the clothes you just ironed.
What Is The Best Ironing Board To Buy?
Knowing how important the factors we mentioned above are, we used them as parameters as we sifted through the many options available to present you with a shortlist of the best ironing boards.
Our board recommendations are of high-quality and they stand out among the rest in terms of effectiveness and features that will make ironing easier for you.
Best Free Standing Ironing Board — Brabantia Ironing Board With Steam Iron Rest
The Brabantia ironing board is easily one of the best ironing boards for most people, and we agree.
It is designed for versatile use, whether for a single homeowner or an average family size. This is because of the sturdy build and height adjustment which can go across 7 different heights (27 to 38 inches), catering for different people and different positions (seated or standing).
The foldable four-leg frame is also sturdy and comes with protective caps attached to prevent slipping while in use. These caps also prevent damage to floors while moving the board around.
The surface area is very spacious and is large enough to iron sheets and duvets. It is also well padded with foam and has a 100% cotton cover on the ironing board surface. This makes ironing smoother and friction-free.
It also comes with an iron rest to hold your steam iron in place, and this can be adjusted for left-handed users.
In terms of appearance, it is pleasant to the eyes, with 8 different color options.
What's more? In a bold "I can beat my chest over this" move that we like, the Brabantia ironing board comes with a 10-year warranty to guarantee quality.
Best Ironing Board With Shoulder Wings — Mabel Home Extra Wide Ironing Board With Shoulder Wing Folding
This free-standing ironing board from Mabel Home is packed with very nice features. But the 2 major features that stand out are the retractable shoulder wings and the extra-wide ironing surface.
With these, it is obvious that the manufacturer's major aim is to enhance ironing options and space for its users, whether for home or industrial use.
It has a well built and stable frame, with retractable legs, and is fitted with a safety lock to aid safe and easy storage and transport.
The adjustable height feature covers up to 6 preset heights.
What's more? The ironing board surface is extra-wide, with retractable shoulder wings to allow for convenient and faster ironing.
For instance, you can iron the shoulders of a shirt at a go without having to pause and readjust to capture the sleeves. Once you decide to take a break, the heat resistant iron tray is right there for you to place the iron safely on.
The well-padded heavy-duty board with cotton cover also makes for a nicely cushioned and friction-free ironing experience.
Did we mention the other nice accessories like the cord holder, hanging rail, storage basket, and an extra cover? Well, those are there too!
So if you're looking for a board that gives you all you need to get the job done in good time and in one sitting, then go for this extra-wide ironing board.
Best Table Top Ironing Board — Honey Can Do Tabletop Ironing Board With Retractable Iron Rest
This tabletop ironing board provides a perfect space-efficient solution to ironing needs for those who have small spaces.
Apart from smaller home spaces, it can also fit right into college dorm rooms as it is compact and portable.
Now, even though it takes up little space, it's surface area is spacious enough to serve you well.
Being a collapsible ironing board, it can be folded up flat and tucked away easily, with minimal storage space requirements. This also makes it convenient to move from place to place.
In terms of design, this ironing board is made of wood and cotton fabric with a metal frame, which makes it sturdy and stable.
It also comes with a foam pad and cotton cover with nice color, to give you good aesthetic value and comfortable ironing experience.
Also, the board has a steam iron rest, on which you can place your iron when it is not in use. This makes it easy to prevent scorching your cloth or hand accidentally. This iron rest is also retractable for space-efficiency.
Best Hanging/Over The Door Ironing Board — Household Essentials Over-The-Door Ironing Board
Over-The-Door ironing boards offer great value for those who have to make do with really small spaces or minimalists who like to keep spaces clean and uncluttered.
This super-compact ironing board takes up very little space. It comes with a hook with which you can hang it over a door anywhere, whether your room, laundry, kitchen, or even your wardrobe door.
This requires no special process and the hook has some cushioning to protect the door, so don't worry, there won't be any damages to your door.
The ironing board frame is made of steel with a mesh ironing surface that is covered with a well-cushioned board.
More so, the pad is made of fiber and the ironing board cover is 100% natural color cotton, which makes ironing fast and friction-free. The brand goes further to provide a heat-resistant silicone-coated replacement cover too.
To further reinforce it and ensure stability, the ironing board comes with rubberized plastic stabilizers (or feet) under the frame to brace it against the door on which it is hung. This lifts the board and holds it firm to prevent it from moving around, which can lead to scratches on the door, not to mention annoying squeaky noises while ironing.
Once ironing is done, you can place the iron into the built-in secure U-hook iron holder and then fold the board flat against the door until the next use.
Best Built-In/Wall-Mounted Ironing Board — Hafele Wall Mounted Ironing Board
The Hafele Wall Mounted Ironing Board delivers good value for money with its space efficiency and quality performance, making it a great addition to your laundry room.
The sturdy frame is made of epoxy-coated steel for durability and is very easy to mount on a wall using appropriate studs.
What's more? It folds in easily and swivels left and right at 90 degrees, and can be locked into place in any of these directions, which offers more usage options.
Many users expressed their satisfaction at how easy it is to use once installed because it is firm, stable, and sturdy. Plus, the ironing board cover is also optimized for smooth ironing.
More so, once you are done with ironing, you can fold it up flat against the wall and lock it into place. No hanging out or taking up unnecessary space and there's no need to lug it around.
How Do I Fold My Ironing Board Down For Easy Storage?
To fold your ironing down for easy storage, do the following:

1. Locate the lever press of your ironing board, usually underside at the edge of the board. If there is more than one lever, press all and see which one makes the ironing board legs move.

2. For a standing ironing board, press the lever with one hand and place your other hand on the other edge of the board. As you apply pressure, squat slowly as the legs fold to bring the board down with you in the process.

3. Once it is down to the floor completely, release the pressure on the lever and lift the ironing board, such that the flat edge is resting on the floor and the nose is pointing upwards. Then secure the folded legs with the leg locks and store the ironing board in a secure place.
You can also decide to turn your board upside down first, such that the ironing surface rests on the floor before pressing the lever to fold the legs down. It would be easier to locate the lever this way, instead of having to bend as with the first method.
Always lock the legs down using the leg locks before you store the board to prevent them from popping out.
Please note that the legs of some ironing boards may not be strong enough to bear any rough-handling. So, it helps to always do this carefully.
Video: How To Fold/Close An Ironing Board
Here's a short video that demonstrates how to get an ironing board down in a few seconds. Check it out!
How Long Should An Ironing Board Last?
Ironing boards are long-use accessories that should last for a lot of years, even up to 10 years. This is why you should buy a durable, high-quality board that can possibly last almost a lifetime, with good maintenance.
Ironing Board Alternative: The Ironing Pad
Also known as an ironing mat or ironing blanket, the ironing pad is another ironing surface that may appeal to you more than an ironing board.
This flat padded material is like a mat that can be carried around and draped over a flat surface for you to press your clothes on.
Most, if not all, ironing pads come with magnets so they can stick to surfaces like your dryer or washing machine without slipping off while pressing your clothes.
Some people have even taken to draping their own blanket permanently over these surfaces.
So if you don't want a standard ironing board because you don't have space for one or your budget won't let you be great, you can go for an ironing pad instead.
The blanket below may be the best ironing blanket for you. Check it out.
For more ironing tips, check these articles:
Conclusion
Ironing can be a tedious and unwanted chore but having good tools for the job makes the process easier and more effective.
A good ironing board is one such tool, as it provides a good surface to lay your clothes while ironing.
There are different types of boards out there and you need to pick a board that fits you, considering your lifestyle, needs, home space, convenience, and budget.
Before you buy an ironing board, you must also look out for important features like the type and installation requirements, design, frame material, level of sturdiness, size, height, weight, and the surface cover.
You might also like to go for one that provides extra features to enhance and make the experience of pressing your clothes more pleasant and enjoyable.
Based on our thorough research and reviews from other users, we have curated a list of the best ironing boards which are: the Brabantia Ironing board, Household Essentials Over-The-Door Ironing board, Mabel Home Extra Wide Ironing Board, Honey-Can-Do ironing board and the Hafele Ironing board.
A number of avenues exist to purchase and you can get good deals on Amazon. If you are looking to buy at a physical location, Costco offers some of the best ironing boards for sale at affordable prices and you can buy whether you have a membership card or not.
A good ironing board should last you for a very long while, even decades, as long as it is well maintained.
Where to Buy a Good Ironing Board — Related FAQs
Do Ironing Boards Need Covers?
Ironing boards need covers. This is because of the following:
Ironing board covers, especially the metallic types, reflect heat back to the ironed clothes. This reduces ironing time and saves energy.
Some ironing board covers are designed to hold on to your clothes while they are being ironed. This anti-slip feature of these covers makes ironing less stressful.
Some ironing board covers are thick and provide extra cushioning from the ironing board frame.
Ironing board cover protects the ironing board frame from moisture generated from ironing clothes with steam or spray starch.
Are Expensive Irons Worth It?
Expensive irons are worth it if you iron a pile of clothes every day. This is because an expensive iron is more likely to help you get the job done faster. An expensive iron is also more likely to last longer.
In addition, an expensive iron is going to create a more perfect result and has more features than an inexpensive iron.
However, if you do not have a lot of ironing to do daily, it is best to buy an iron within your budget. You can also use a spray bottle and a dry iron instead of buying an expensive steam iron.
Is Ceramic or Stainless-Steel Iron Better?
Ceramic iron is better than stainless iron because it prevents your cloth from having scorch marks. This is because the ceramics can be heated up to hot temperatures without leaving scorch marks on fabrics. It is also great at reducing static on your cloth while ironing.
However, unlike stainless steel irons, ceramics irons' soleplates tend to wear out over time. They are also not as easy to clean as stainless-steel irons. Also, stainless steel irons tend to glide over fabrics more smoothly than ceramics.

Where Do You Store An Ironing Board?
The best ideas on how to store an ironing board depend on the type of ironing board and its size.
The most common way that ironing boards are stored is to hang it on the door using the ironing board holder. 
Tabletop ironing boards can be kept in closets due to their smaller size. Some ironing boards can be folded into half and kept in drawers. 
If the board is quite large, the garage or the basement is the best place to store them. 
Do Ironing Boards Come in Different Sizes?
Ironing boards come in assorted sizes. But the most common size is 15 inches wide and 49 inches long. Other sizes of ironing board are the compact, large, and extra-large.
The size of the compact ironing boards are often 12 inches wide and 42 inches long. The large ironing boards are 18 inches wide and 49 inches long while the extra-large ironing boards are about 35 inches wide and 55 inches long.
These sizes are measured without the ironing board covers. So, some heavily padded ironing board covers can increase the sizes of an ironing board by an inch or more.
Can You Wash Iron Board Covers?
You can wash ironing board covers. This is because, over time, dirt and dust build up on them. If they are not washed, some of this dirt can stain light-colored clothes.
If your ironing board cover has an instruction label, read it carefully before washing it. If there are no washing instructions on the cover, use a mild detergent to wash it by hand or machine.
Dry your ironing board cover on a clothesline instead of a cloth dryer. This is because the cover might wear out if exposed to the heat of the cloth dryer.