A good ironing board cover is designed to protect your board and clothes from stains and scorches. However, finding the right one may be a bit challenging because there are tons of this ironing essential in the market.
Not to worry, this article provides tips on how to sort through the variety in the market for a suitable one. We will also give you recommendations for a new cover that you can easily get on Amazon.com or at Kmart.
Read on to learn more.
Do You Need An Ironing Board Cover?
A cover is essential for ironing.
And while some people improvise at home with towels and sheets, the benefits of using a real cover cannot be overemphasized.
A good quality cover will protect your board from heat and scorch marks. It also ensures long-lasting use by guarding against wear and tear.
Furthermore, it traps dirt and dust and can be washed, unlike the board itself.
Moreso, it protects your clothes from sticking to the ironing surface; and the padding allows the iron to glide friction free over your clothes.
Is there any chance you may want to make your ironing board cover as opposed to buying one? Then check out this video for a step-by-step guide on how to make an ironing board cover:
What to Look Out For Before You Get A Cover
Here are a few important factors that we advise you to consider before you get a new cover:
Scorch Resistance
The material should be able to bear high temperature and reflect heat such that it doesn't damage the board or your cloth.
Avoid synthetic, nylon fabric or any other material that can melt or crease under heat. Either unbleached Teflon or organic cotton cover is recommended because these materials do not slip and are scorch resistant.
Metallic covers have copper woven into the fabric to reflect heat.
Stain Resistance
When using a steam iron, moisture must be able to pass through the cover, such that it doesn't stain the fabric. Silicone-coated ones can resist steam staining as well as scorching too. So, they usually come highly recommended.
Thick Padding
There are different types of pads out there, with foam pads being the most common. However, we recommend that you go for a felt pad instead of a foam one.
A felt pad will wick the moisture away from the top while a foam pad will absorb and retain it so that when you lift the cover after a while, the underside may be wet.
Anti-slip Features
Your cover must be secured in place to prevent it from slipping off while you iron.
Look out for features like velcro snaps, tapes, cords, elastic edging, drawstring, etc. with which you can hold the cover in place.
Design
Who says your board top has to be bland and boring? There's a variety of texture, patterns, and colors that you can choose from. You can even choose one that will match your home decor.
So, feel free to make a choice but remember to factor in other features discussed earlier.
FAQs About Ironing Board Covers
What Size of Ironing Board Cover Do I Need?
The size of your cover depends on your board size.
For a good fit, measure your board length, width, and even the nose, as the shapes and sizes differ across.
Use these measurements at the local store or fill in the details online to get a perfect size.
You can also consider going for adjustable covers with drawstrings that can fit over any board size.
Meanwhile, this ironing board size chart here may be useful to you. Check it out as a guide to picking your cover.
How to Measure Your Ironing Board for a New Cover
Before you decide on any board cover of your choice, it helps to take note of the dimensions of your board and match it with the dimensions of the cover you want to buy.
Remember that your cover should fit snugly to the board. So, you want to avoid buying a too-small or too-large cover for your board.
To measure your ironing board for a new cover you need a measuring tape and the board you need to measure.
Step 1: Remove the Old Cover
To get accurate measurements of your board, remove the old cover first.
Step 2: Measure the Width of the Board
To determine the width of your board, take your measuring tape across the middle of the board.
You only need the top measurement of the board. So, don't wrap the tape measure around the ironing board or you'll get wrong results.
Once you've gotten the value of the board's width, ensure that you note it on a piece of paper.
Remember what they say about the shortest pencil and the sharpest memory?
Step 3: Measure the Length of the Board
Now, to get an accurate measurement of the length of your board, you need to run your tape measure from the straight end of the board to the nose tip of the board.
Ensure that you also note the length distinctly on a paper too.
By the way, since they don't get covered, you don't need to bother about board accessories like the iron rest while taking your measurements.
In fact, measuring it will only lead to buying a too-big cover that won't fit your board. So, you want to avoid doing that.
Lastly, note the shape of the board's nose.
To get a good cover fit, it helps to take note of the nose shape.
Is the nose of your board rounded? Is it tapered? Or is it blunt?
Can I Wash My Ironing Board Cover?
Yes, you can wash your ironing board cover periodically to get dirt and dust off, so that your clothes don't get stained.
This is why it is useful to go for a cover that you can take off easily.
Board covers also come with care labels on how to wash them. So, be sure to check yours before you decide on the laundry methods you need to use to make it clean.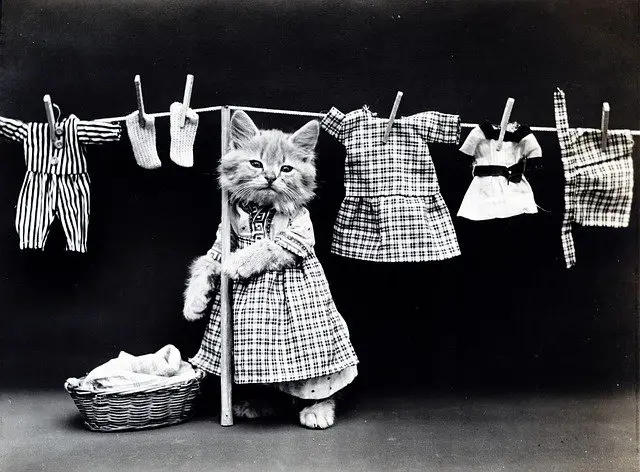 How Often Should I Change Your Ironing Board Cover?
Except you are bored with the cover or it is of low quality, you really don't need to change your ironing board cover often.
In fact, one common reason for changing ironing board covers is usually that it is now old, worn and thin from many years of use.
If your concern with the cover is that it now looks dull, then we can tell you for free that it may be as a result of a buildup of dust and products like your spray starch.
In that case, a good wash may be all you need.
What Is The Best Ironing Board Cover?
The best ironing board cover is one that is scorch and stain-resistant, has anti-slip features and is perfect for your ironing board.
That being said, we recommend the Whitmor Deluxe Ironing Board Cover and Pad.
Silicone-coated with a reflective surface, it prevents scorching and staining. The fiber pad also allows for easy melting of wrinkles on clothes.
The elastic edging makes it nonslip so that it stretches well over a standard ironing board. If you use a smaller board at home, you can tighten it with the drawstring.
Meanwhile, this cover comes with a 3-year warranty.
You can get this product, new or used, from Amazon, local stores or at megastores like Kmart.
Click here to check out and buy this product on Amazon!
Kmart ironing board covers are quite affordable and as a customer, you can order online for home delivery.
Even if you use a standard ironing board or a small one, you can find a high price or low price option that can serve your needs. Just sort through the merchandise list to get one that is perfect for you.
You can also check out our article on how to find the best ironing board before you buy one.
Happy shopping and have fun ironing!