Ironing isn't always fun.
But with the right ironing board, this seemingly boring chore can become something to look forward to.
This is why it is important to know the necessary features to look for when buying one.
For instance, you'll be a step closer to finding the best ironing board for you if the size of the board is perfect for your space.
Moreover, if you do a great deal of quilting, then you need to be sure that the board will be large enough to make the task easy.
So, typically, if the size can't be compromised for the available space, you may be required to make a choice between the traditional floor model or the wall-mounted option; which has a smaller footprint.
Other factors you may want to consider before you buy an ironing board include the height, how wide the board is, its cover and extra features like iron rest for steam irons.
Factors to Consider
Height
How high should your ironing board be?
Typically, your ironing board should be at your hip level while standing.
However, for ease and convenience, it is advisable to factor this height into your measurements before you choose a wall model.
That said, ironing while sitting is more convenient than standing; especially if you have a ton of clothes to iron.
But the height of the board also determines how convenient sitting will be.
So, if you opt for a floor model, then we recommend going for a model with an adjustable height feature.
FYI: A good number of ironing boards with this feature are adjustable within a height range of 28 to 36 inches.
Size
How wide should the surface area of your ironing board be?
Your ironing board should be wide enough to cater to your ironing needs.
But typically, ironing boards are between 13 to 18 inches wide.
When it comes to the length of an ironing board, the range is usually between 48 inches and 54 inches.
So, an ironing board that is wide and has a large surface area will make ironing bedsheets and curtains easier.
You also need to consider your installation space.
If your space is too small, ironing will be a real pain in the neck (which is something you want to avoid).
This also means that apart from the surface area of the board, features like the legs should be considered for size and space evaluation.
Portability
If you are keen on a board that you can move from one room to another, then you may want to consider a lightweight model or a model that you can easily hang on the doors of your rooms or store in your closet after use.
Alternatively, if you prefer a fixed ironing board that you can also store, then a wall-mount model will be more suitable. These ironing boards are recommended if you want to take advantage of their stowaway feature to keep your space neat and tidy.
Sturdiness
One downside of portable ironing boards is that, because there is a thin line between lightweight and flimsy, there's a tendency for their sturdiness and stability to be compromised.
But that doesn't necessarily mean that you can't have lightweight and sturdiness all in one ironing board.
Our emphasis on sturdiness is simply because you will be applying pressure to the board as you iron.
So, it goes without saying that a sturdy board will make ironing easier and will prevent undue drama from sinking boards, squeaking hinges, and boards that fall apart after a while.
Meanwhile, sturdy ironing boards tend to be pricier than the less sturdy ones.
Ironing Board Cover
Let's talk about ironing board covers.
An ironing board cover contributes to the ease of removing creases from your clothes when you iron.
Poorly-fitted ironing covers will make the process difficult and will make ironing frustrating altogether.
So, ensure that the cover fits firmly on the ironing surface.
You can also look for features like Velcro straps, elastic edges, and drawstrings so that the cover fits firmly to the board.
The padding is also important.
Ensure that the surface of the pad is non-stick and that it is resistant to scorches from the iron.
Choose silicone covers for your ironing surface because a cover of the sort is usually also stain-resistant.
Extra Features
Depending on your needs, here are some other features you may want to look out for in an ironing board:
Iron rests — usually a metal section at the end of the board where you can place your iron.
If you have a steam iron, ensure that the iron rest on the board is durable and large enough because steam irons tend to be relatively larger and heavier.
Tapered tip — makes it easy to iron shirt sleeves and trouser legs.
Flex guide –useful for managing the cord of your iron.
Sleeve attachment — this small board makes it easy to press small sections like pleats, collars, and sleeves easier.
FAQs About How to Choose an Ironing Board
What are the Best Ironing Boards?
The best ironing boards are durable, functional, and user-friendly. These 3 factors played major roles in our selection of these boards. Check them out!
Honey-Can-Do Wall-Mounted Ironing Board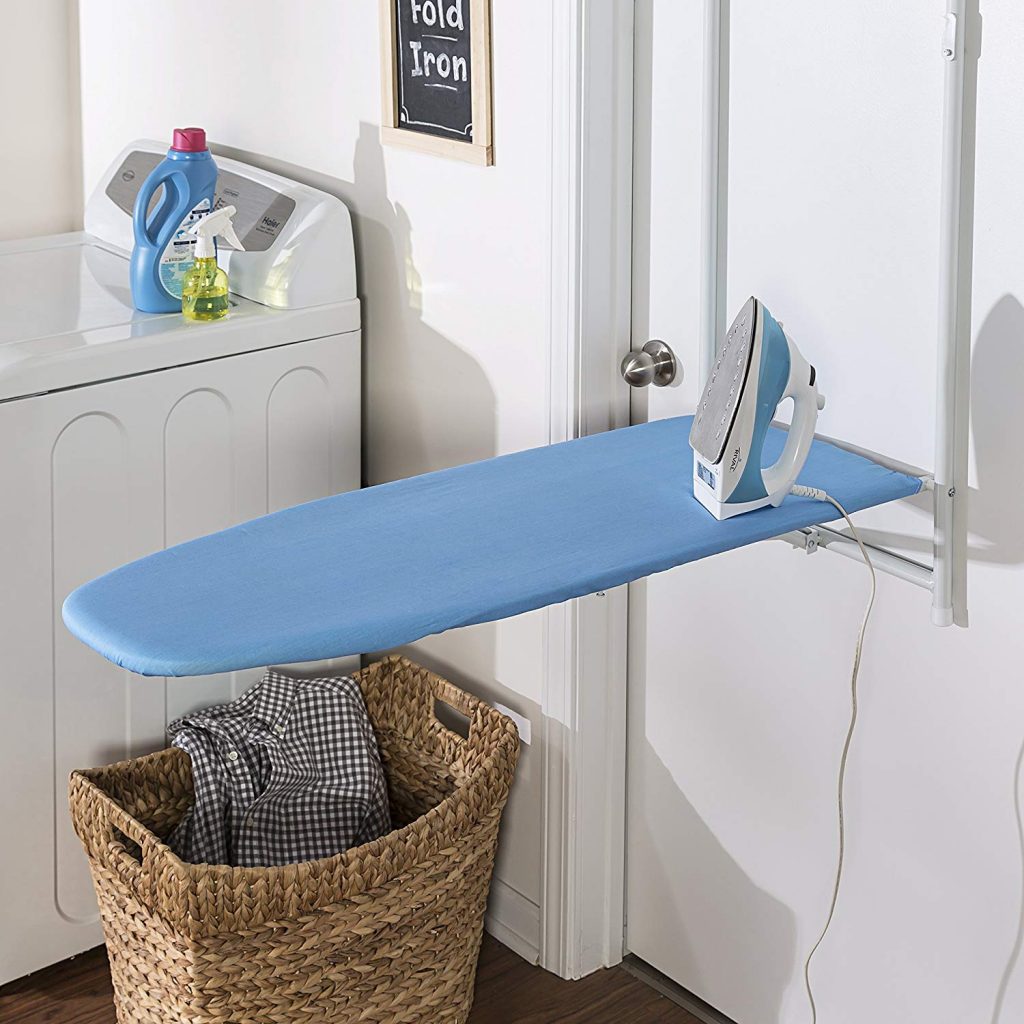 Click here to get ironing boards like this on Amazon!
Mabel Home Extra-Wide ironing Pro Board with Shoulder Wing Folding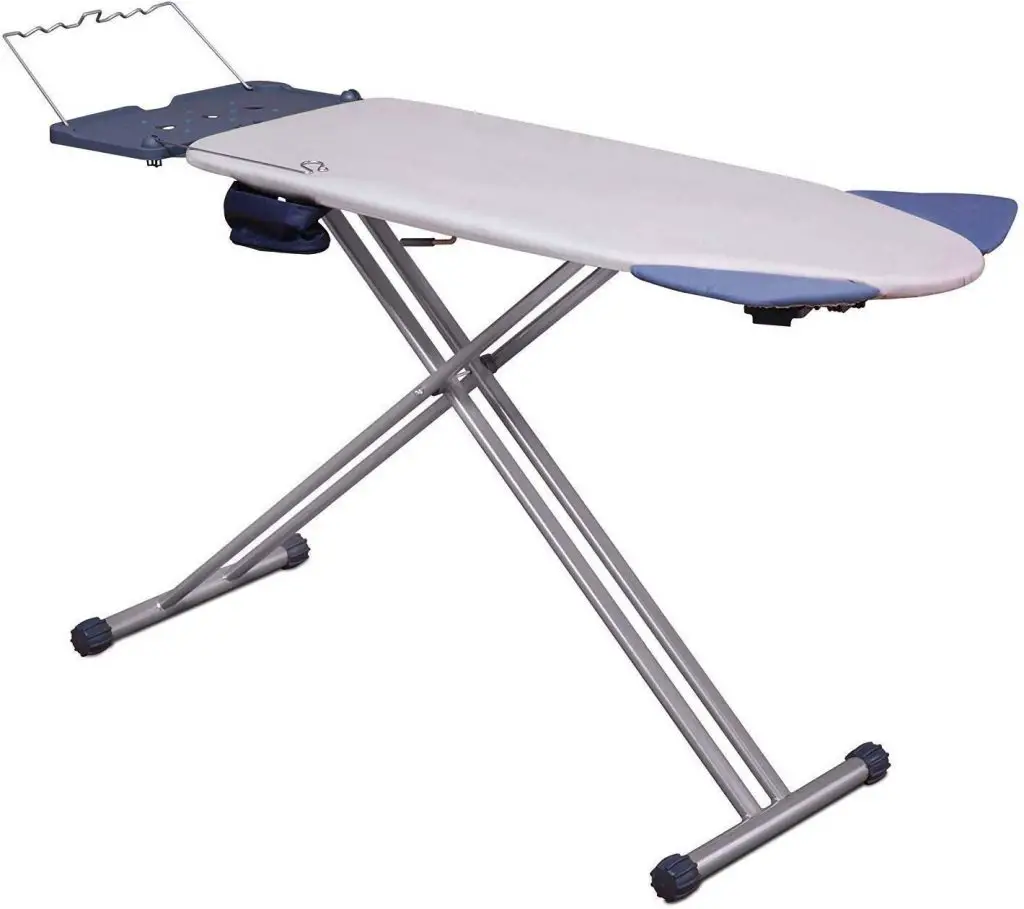 Click here to buy this product on Amazon!
Honey-Can-Do Tabletop Ironing Board with Retractable Iron Rest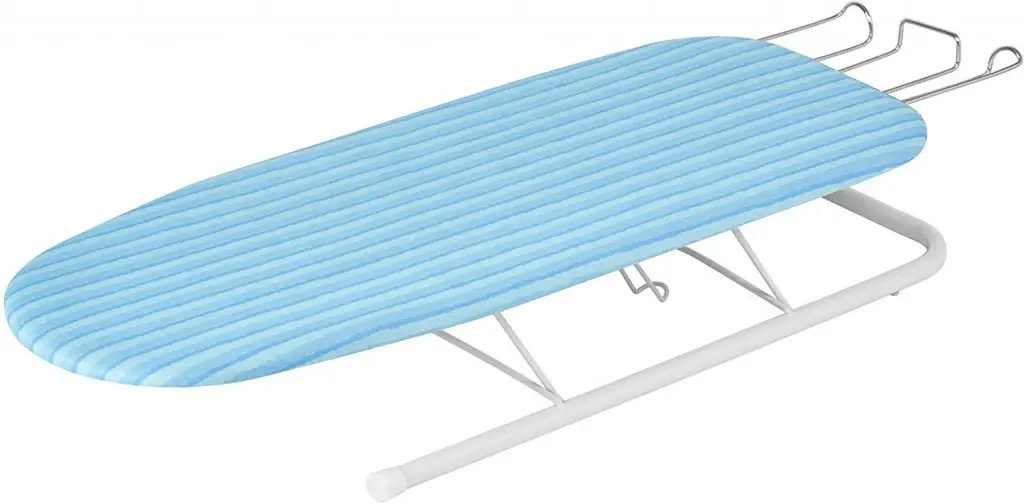 Click here to get this on Amazon!
What is a Standard Size Ironing Board?
A standard size ironing board is an ironing board with dimensions that fit into one of these five standard ironing board sizes:
Size A: 43.3 inches by 11.8 inches
Size B: 48.8 inches by 15 inches
Size C: 48.8 inches by 17.7 inches
Size D: 53.1 inches by 17.7 inches
Size E: 53.1 inches by 19.3 inches (source)
What Can I Use in Place of an Ironing Board?
Here are a few things you can use instead of an ironing board:
i. Find a suitable spot on a tile or wooden floor that is close to an electric socket. Place a blanket on the floor and iron your clothes on the blanket.
ii. For convenience, you can choose to use the surface of a table, kitchen counter, or bathroom counter that is at a convenient level. But remember to use a blanket as well.
iii. If you are not particular about sharp creases you can also use your bed or a carpeted floor.
It is up to you to decide on a suitable surface.
However, irrespective of your choice, ensure that you always use a blanket; preferably an ironing blanket because blankets of the sort are usually coated with silicone and are made with scorch-resistant materials. They fold easily and can be kept in a safe storage space after use.
In the absence of an ironing blanket, a thick towel will do.
If all you have are thin towels, you can lay 3 of the thin towels on each other.
Choose white towels so that your clothes don't absorb the color of a colored towel when you iron.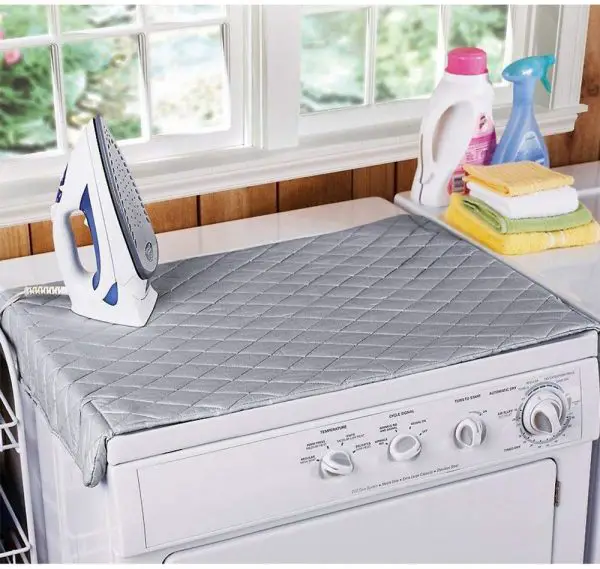 Check out this pocket-friendly ironing blanket on Amazon!
How Long Should an Ironing Board Last?
Irrespective of the construction materials — wood, metal or plastic — a good ironing board should last for many years and even up to a lifetime.
However, parts of the board like the cover and pad will need to be changed within 2 to 3 years.